The following list is only a small portion of all of the various filming formats that have been used. Because so many different formats have existed, only the more popular or significant filming formats are listed. Click on any image to see a larger version.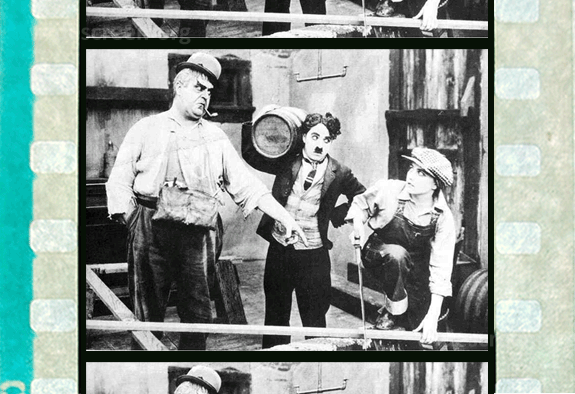 Example of a 1.33:1 silent film frame. This composite is from my own film scans and a screen shot from The Gold Rush, which is in the public domain.
Flat/Spherical
Aspect ratios: Various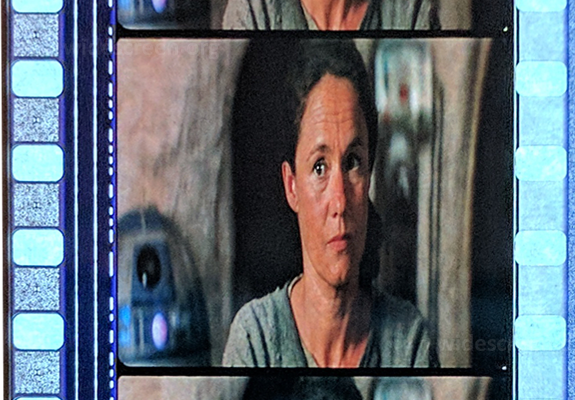 The Phantom Menace ©1999 Lucasfilm, Ltd.
Image taken by yours truly from a 35mm strip that was included with The Phantom Menace widescreen VHS box set.
Anamorphic
Aspect ratios: Various, generally 2:1 to 2.76:1
Standard 4-perf 35mm frame from Robocop 2 matted to apprx. 1.7:1. © 1990 Orion Pictures
Image taken by yours truly from a 35mm "No Smoking" bumper for Robocop 2.
Matted
Aspect ratios: 1.66:1 to 2.35:1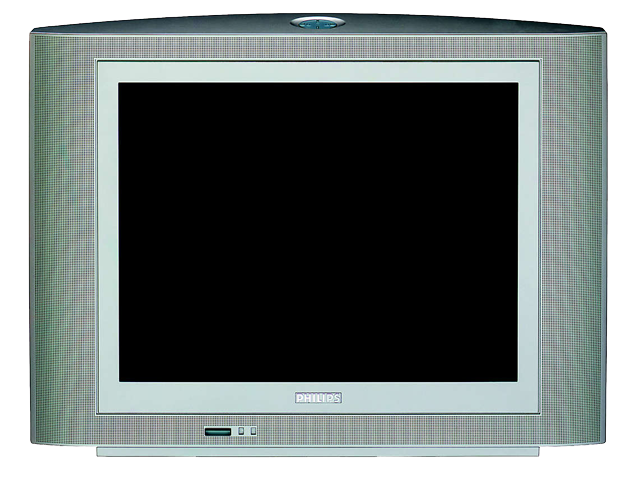 1.33:1 (or 4:3)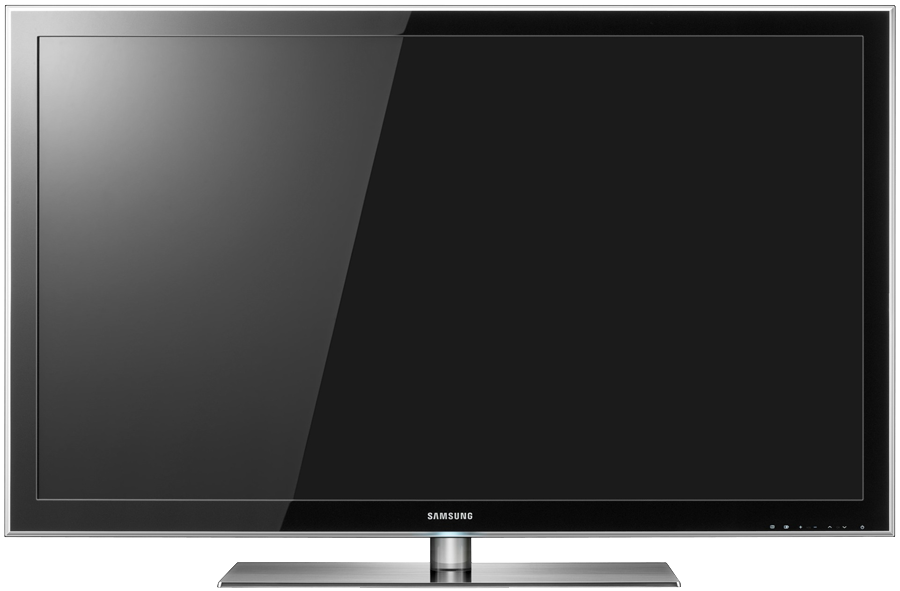 1.77:1 (or 16:9)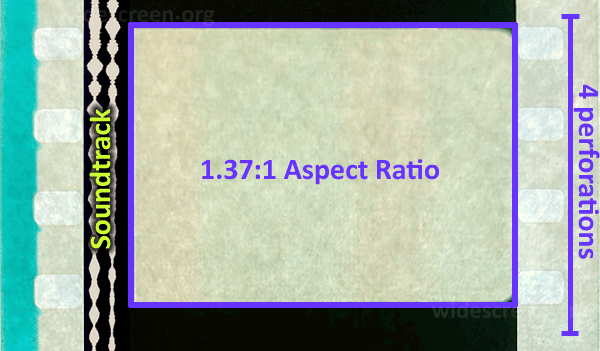 Composite example was made by yours truly from multiple 35mm film sources.
Academy Ratio
Aspect ratios: 1.37:1, can be matted to 1.66:1, 1.76:1 or 1.85:1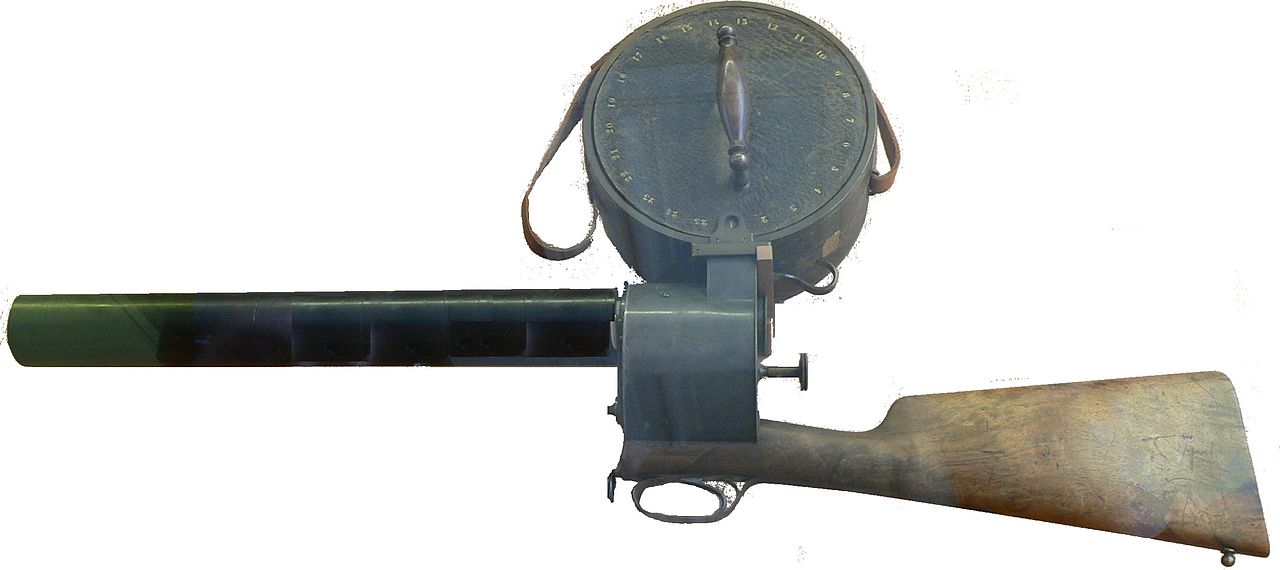 Marey Chronophotography gun
Image by David Monniaux, courtesy of Wikimedia
Chronophotography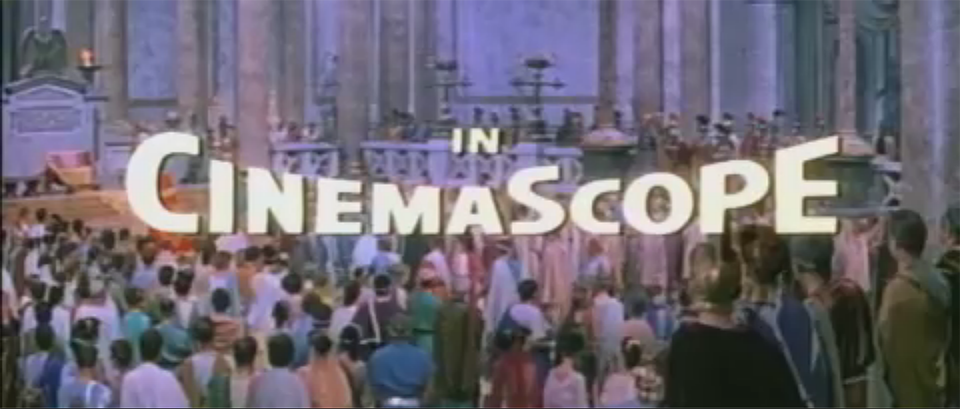 Frame from the trailer for The Robe (1953) with an aspect ratio of 2.35:1
CinemaScope
Aspect ratios: 2.35:1 to 2.66:1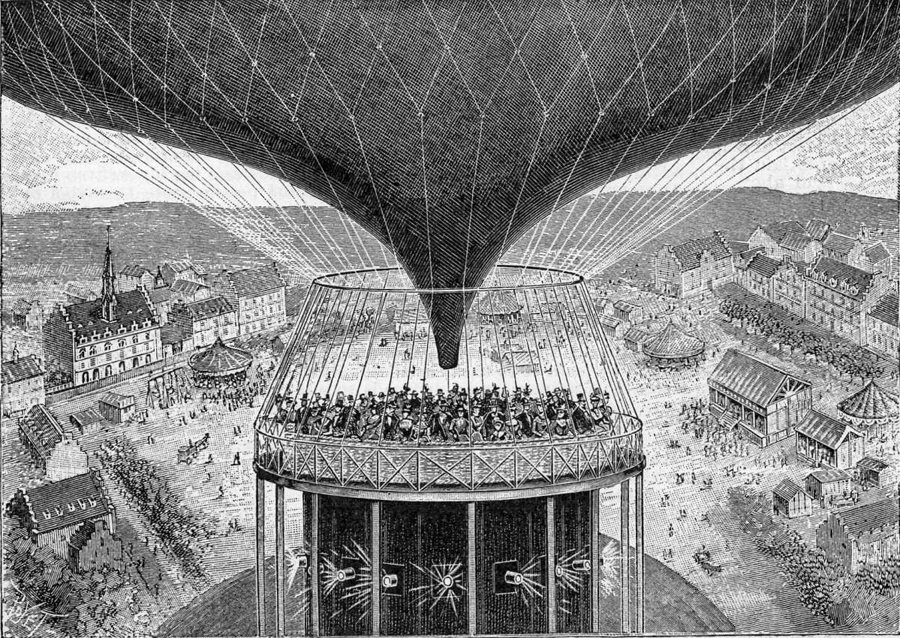 Woodcut of Cinéorama at 1900 Paris Exposition.Courtesy of Wikimedia.
Cinéorama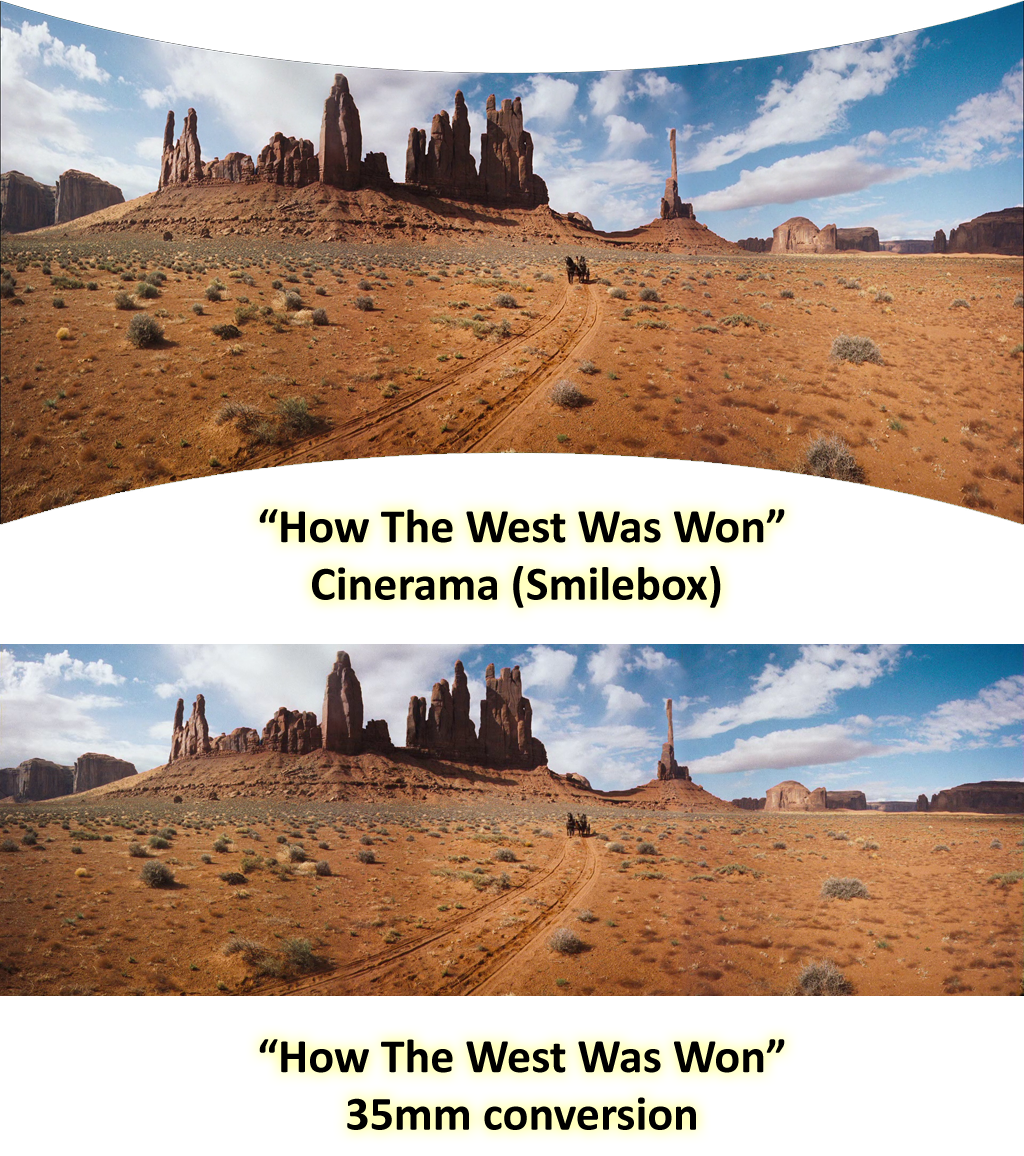 Cinerama example of How The West Was Won
© 1962 MGM
Cinerama
Aspect ratios: 2.59:1 to 2.65:1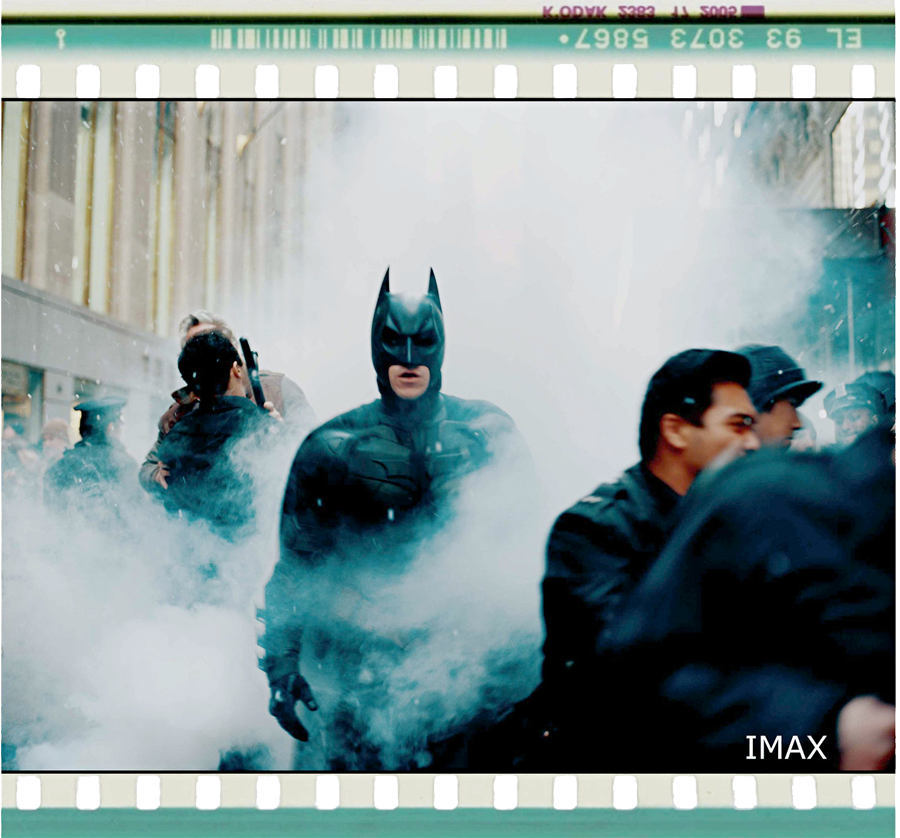 IMAX 70m frame from The Dark Knight Rises. Courtesy of The New York Times
IMAX
Aspect ratios: either 1.43:1 or 1.90:1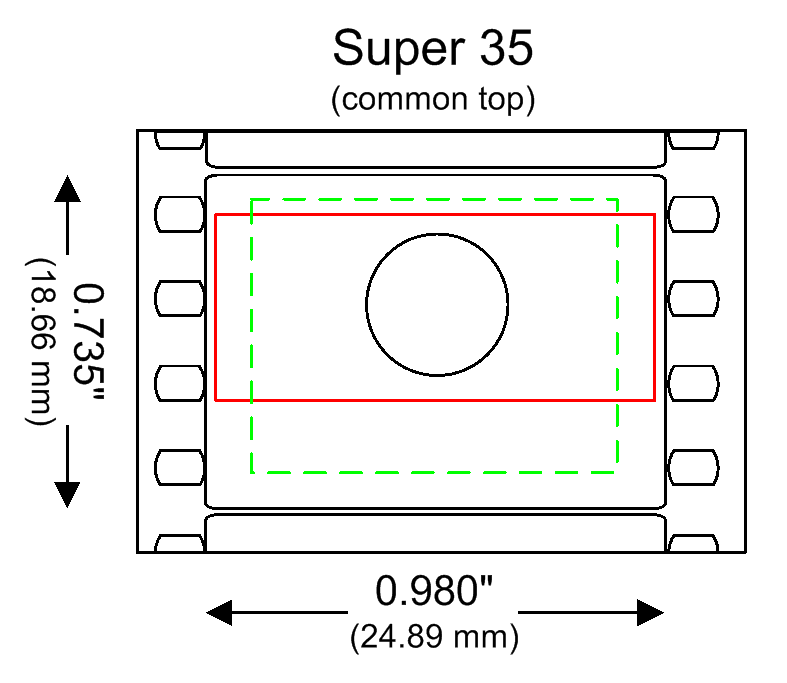 Exmaple of a Super 35 frame.
Yellow = section used for 4:3 TVs
Red = section used for 2.35:1 movies
Image courtesy of Wikipedia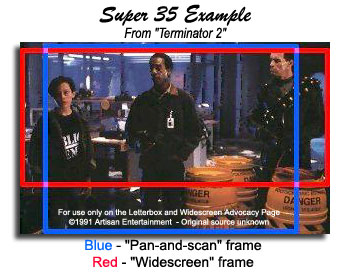 Example of Super35 back in the "pan-and-scan" days. Image is a relic from previous iterations of widescreen.org.
Super 35
Aspect ratios: 1.33:1 to 2.35:1
Technirama frame (8-perf horizontal) with 1.2x anamorphic squeeze, courtesy of Brian Pritchard
Technirama and Super Technirama
Aspect ratio: 2.35:1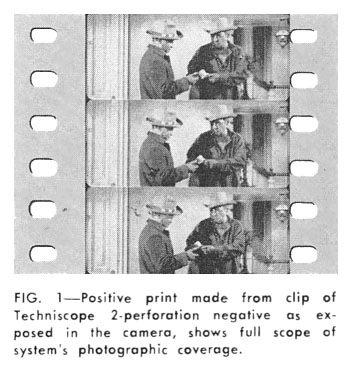 Techniscope example of a positive print, showing two perfs per frame. Courtesy of The American Widescreen Museum.
Techniscope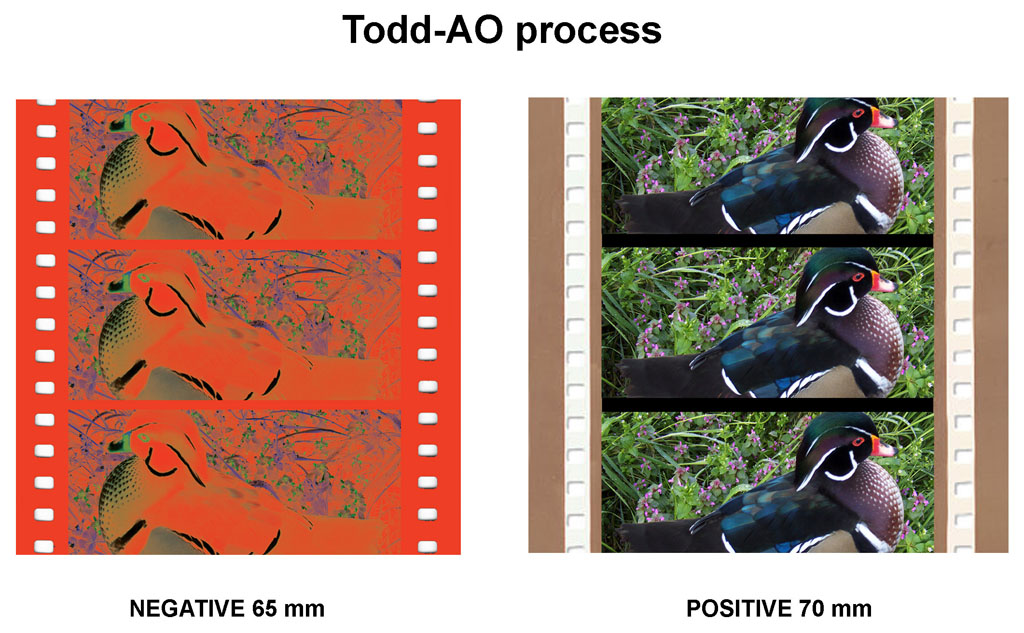 Negative and positive examples of a Todd-AO frame. Courtesy of Wikimedia
Todd-AO
Aspect ratio: 2.2:1

The chariot race from Ben-Hur showing the extreme 2.76:1 aspect ratio.
© 1959 MGM Productions
Ultra Panavision 70 / MGM Camera 65
Aspect ratio: 2.76:1 (when using 70mm film)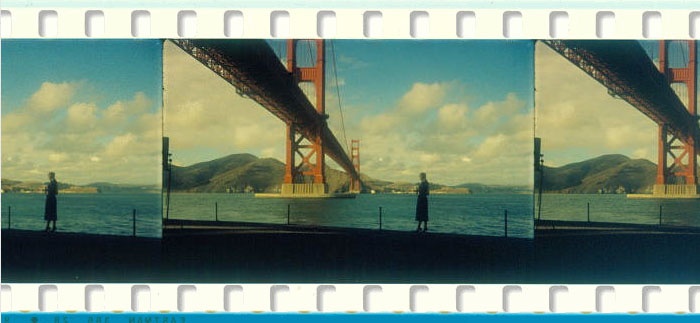 An example of a VistaVision frame from Alfred Hitchcock's Vertigo. Courtesy of The American Widescreen Museum
VistaVision
Aspect ratio: 1.66:1 to 2:1