Please help me to provide needed equipment to our medical personnel who are coping with the COVID-19 pandemic!
Unfortunately, the new coronavirus from China (the cause of COVID-19) has brought out the worst in some people who are hoarding medical supplies that are needed by medical personnel. These include N95 face masks and other types of protection.
Although I cannot do anything about the face masks, a couple in Syracuse, NY have made available plans to allow people at home to make face shields to help to protect our medical workers from things like patient coughing. These are in high demand and I have already started to print the necessary visors to accommodate this. For more information about these face shields, please visit Budmen Industries. Their version 4 shield is approved by the National Institute of Health.
Unfortunately, the raw materials cost money, the most expensive of which is the polycarbonate sheeting that is used as the clear guard on the shields. Other needed items include elastic bands, foam tape, 3D printing filament, resealable bags, and the cost of shipping. I cannot do this on my own, unfortunately, so any donation that you can make to help offset the costs will be greatly appreciated.
Anyone who wishes to donate spare or unused PLA filament is welcome, too! I can be contacted at the "Contact" link above.
As of 27 March 2020, I have two institutions who have already said that they want as many of these shields as I can make. One is a large nursing home in Connecticut; another is the medical department of the Ohio State University. I post public updates on what I have done so far on Facebook, so feel free to follow me there. (The link is on my Podcasts page.) I am making all posts regarding the face shields public, so you only need to follow me. You do NOT need to send a friend request nor should you need a Facebook account.
To donate, simply click on the PayPal.me logo or scan the Venmo QR code below.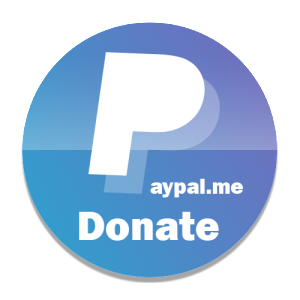 ---
People have been asking what parts can be printed, what parts need to be donated, and whether this request is legitimate, which is completely fair. Here is a breakdown of the main materials that are needed:

Thin polyethelyne sheets are used for the clear shield. These must be purchased separately and are the biggest expense due to the cost of shipping.
Foam tape is used for comfort against the forehead and must be purchased separately.
Elastic bands are used to secure the visor to the wearer's head and must be purchased separately.
Resealable polymer bags are used to store the visor's component set and must be purchased separately.
The visor and the clip that secures the elastic bands are 3D printed, which obviously requires PLA filament that must be purchased separately.
Finally, if you can't afford to help, please do not feel guilty about it. In these difficult times, we can only do so much. Thanks for looking, anyway!
Recipients so far
3 April 2020 - 100 shields were sent to Church Homes, Inc. in Hartford, CT
8 April 2020 - 100 shields were sent to Ohio State University in Columbus, OH
8 April 2020 - 20 shields were sent to a private request in Syracuse, NY
8 April 2020 - 20 shields were sent to a private request in Tacoma, WA